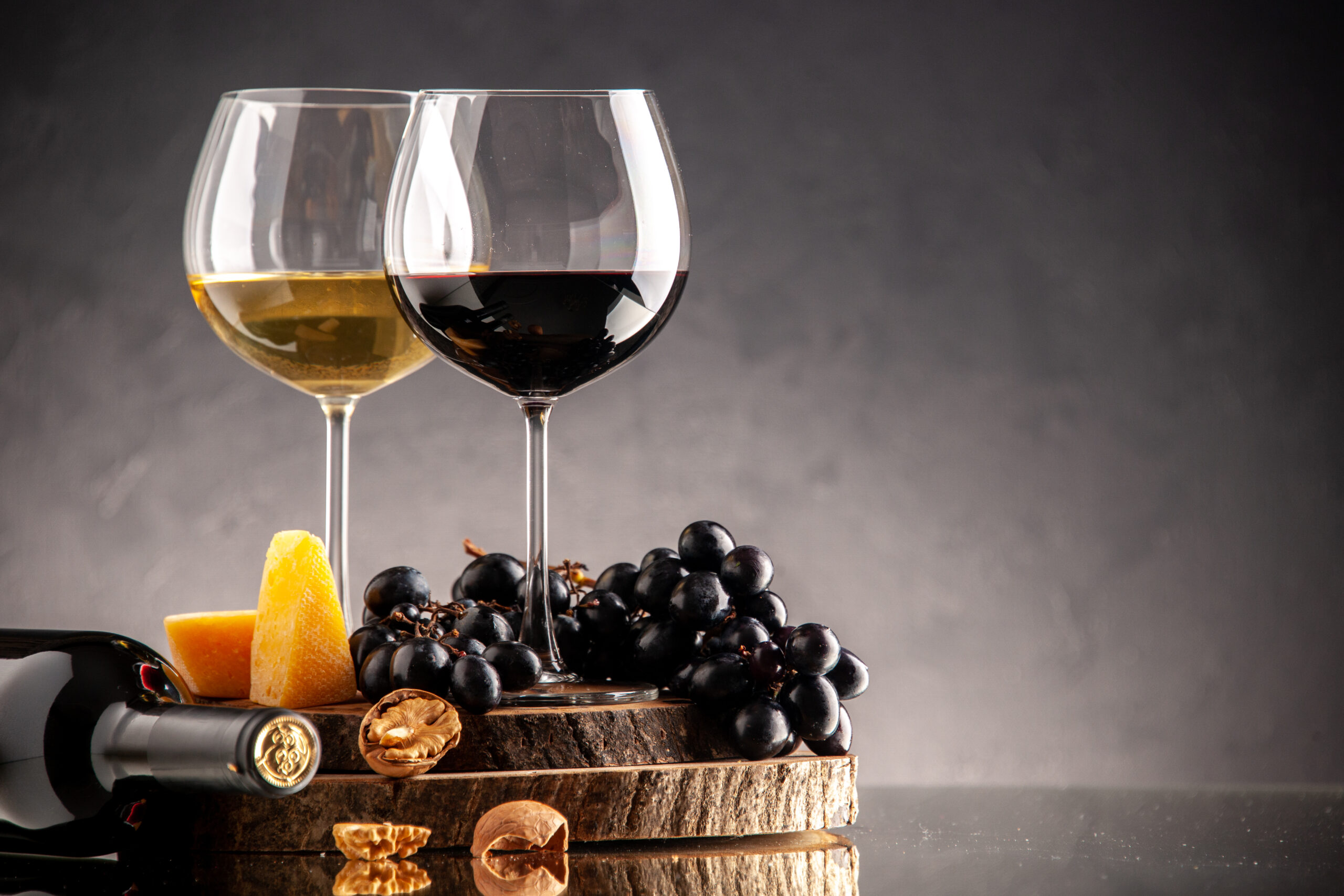 A Beginner's Guide to Wine
Wine and cheese are one of the more iconic matches of the food world. To honor Pierre Cheese Market's partner-in-crime, we're presenting a starter guide to some of the most classic white and red wines you may encounter! Whether you're a new wine drinker or basically a sommelier, these flavor descriptions and pairing suggestions should be a helpful refresher for enjoying your favorite refreshment.
WHITE WINES
Key Words: Herbal, fruity, buttery, oaky, crisp
The light, fruity flavors of these wines work well with simple meat dishes such as fish and chicken. They also complement spicy foods well. Pair with cheeses like gouda, havarti, aged cheddar, or gorgonzola.
Sauvignon Blanc:

Light with herbal and grassy flavors

Light Chardonnay:

Slightly sweet and fruity 

Medium Chardonnay:

Dry, oaky, and full of fruit flavors

Full Chardonnay:

Rich fruit with buttery and oaky flavors 

Pinot Gris:

Light flavors of pear, apple or melon

Riesling:

Floral, spicy, lime-citrus flavors
RED WINES
Key Words: Herbal, earthy, vegetal, wood-derived
Red wines lend themselves well to red meats and hearty dishes because of their strong tannins, which are derived from the skins and stems. Pair with cheeses like brie, mozzarella, gruyere, and parmesan. 
Pinot Noir:

Light, red, berry and earthy aromas and flavors – light tannin

Syrah:

Cherries with black pepper and smoky – light-to-medium tannin

Zinfandel:

Dark berry and cinnamon flavors – medium tannin 

Light-Bodied Merlot:

Simple berry flavors – light tannin 

Medium-Bodied Merlot:

Blackberry and more character and intensity – light-to-medium tannin

Full-Bodied Merlot:

Rich, full berry and earthy flavors – medium tannin

Light-Bodied Cabernet:

Blackberry and slightly sweet – medium tannin 

Medium-Bodied Cabernet:

Red currants, blackberry and earthy flavors – full tannin 

Full-Bodied Cabernet:

Black currants, plums and wood flavors – full tannin