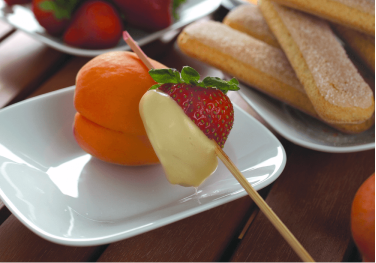 Sparkling Triple Crème Fondue
Ingredients
3/4 cup sparkling rosé or Champagne

2 Tbsp. sugar

1 Tbsp. fresh lemon juice

1 3" strip lemon peel

4 tsp. cornstarch

2 7-oz. pkgs. St. André® cheese, rindremoved. Cheese cubed

1 Tbsp. cognac or brandy

Dippers: strawberries; peach, apricotor nectarine slices; ladyfingers
Preparation:
In a large nonstick saucepan, combine champagne, sugar, lemon juice and peel. Simmer, stirring occasionally, 3 minutes. Discard lemon peel.

In a medium bowl, use heatproof rubber spatula or wooden spoon to blend cornstarch into cheese. Add to saucepan one third at a time, stirring constantly until melted, before adding next third.

Cook over medium-low heat, stirring constantly, until smooth and thickened, about 7 minutes. Stir in brandy, then pour into fondue pot set over a flame and serve with dippers. Makes about 1 3/4 cups.

Be sure the cheese is well chilled to make removing the rind easier.

This St. André® fondue can also make a lovely starter to a dinner party: Omit the sugar and decrease the lemon juice to 1 tsp. Serve with a variety of crudités.