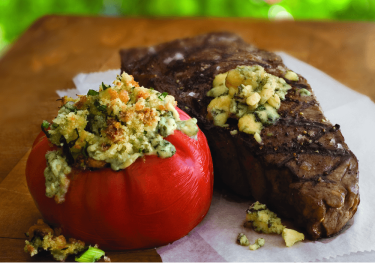 Grilled Steak with Stilton Summer Tomatoes
Ingredients
6 Large Firm Ripe Tomatoes (About 2 lbs.)

1 Cup Panko Style Bread Crumbs

1/2 Cup Parsley, Finely Chopped

1/2 Cup Basil, Finely Chopped

2 Large Scallions, Thinly Sliced

3 tbsp. Olive Oil, Divided

1 PKG. (16/3 oz.) Tuxford Blue Stilton Cheese, Crumbled (Divided)

6 Boneless Rib-Eye or Strip Steaks (8-10 oz. each)

2 tsp. Coarse Salt

1 tsp. Black Pepper, Coarsely Ground Arugula or Watercress (Optional)
Preparation:
Cut a thin slice off the top od each tomato and discard. Gently holow out about 3/4" of the pulp; discard. Wrap the bottom of each tomato in a doubled piece of heavy-duty aluminum foil to form a small "nest'.

In a small bowl, thoroughly combine panko crumbs, parsley, basil, scallions and 2 tbsp. oil. Stir in 3/4 cup cheese. Fill tomatoes, packing down filling slightly and mounding as needed to use all of the filling.

Brush steaks with reamaining 1 tbsp. oil and sprinkle with salt and pepper.

Heat grill to medium-high and oil grill grate. Place steak and tomatoes on grill. Cover and cook tomatoes just until softened and topping is golden brown, about 8-10 minutes. Remove tomatoes and keep warm. Continue grilling steaks to desired doneness, 8-10 minutes, turning halfway during the cooking. (8 minutes - medium rare/10 minutes - medium).

On each of 6 serving platess, arrange argula (optional) and steaks, topping steaks with remaining cheese. Remove foil from tomatoes and serve alongside.

TIP: 1) Tomatoes need to be ripe yet still firm, so that they retain their shape when cooked. 2) If you must use regular bread crumbs, use unseasoned dry bread crumbs and reduce amount to 1/2 cup.